Pocket Films recently met with Jamie Brewer, Head of Broadcast and Post Production Rental, to hear more about Gravity Media's formation, goals and expansion.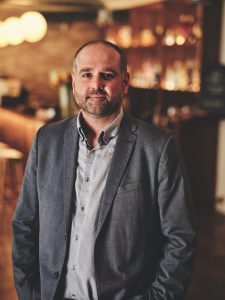 I read Gravity Media is "a brand-new company with a 30-year pedigree". Can you describe how the present company evolved?
As the world-leading global provider of complex live broadcast facilities and production services, Gravity Media is a team of experienced technical, engineering and creative experts with production capabilities bringing some of the most iconic sporting moments and memorable, much-loved entertainment to screens across the globe.
Gravity Media is the formation of four key established brands: Gearhouse Broadcast, Hyperactive Broadcast, Input Media, and Chief Entertainment. The company is fortunate to have a global footprint and operate in all areas of Production Services with this winning combination.
Gravity Media is the home of state-of-the-art equipment, technology, production and post-production facilities.
With lots of changes in the camera hire market, how would you describe your USPs?
We are focused on helping our clients produce their desired broadcasts and content. In terms of cameras, we specialise in system cameras best known for live sport, events, and light entertainment productions. We are very proud of our inventory of Sony HDC 3500, 4300, and 2500 amongst a large range of additional cameras, equipment and supporting accessories.
Gravity Media offers the latest broadcast equipment for rental to the OB, studio, and production markets, supported by a 24/7 technical backup service.
Stay tuned for more exciting new broadcast equipment coming soon which will be available to rent worldwide.
What areas of specialisation do you feel you offer?
Gravity Media has continued acquisition of beneficial production business to enhance our offer recently – we offer a comprehensive range of speciality cameras, tracking systems and remote solutions for global broadcasters, production companies and live-event organisers. From handheld wireless cameras and in-sport on-boards, to POV cameras, RF facilities and helicopter links, our clients enjoy the many benefits of the latest specialist camera solutions.
Gravity Media has quite an acquisition history. What has been one of your most important purchases?
We are a sum of our parts, and every acquisition has been a great opportunity to drive more work across a wider range of productions, whether it be an enhanced camera stock, our fleet of Outside Broadcast Truck solutions in key territories, post-production event workflows and edit facilities to networked studio facilities across the globe.
How did you react to the onset of the Covid Pandemic and are there any ways the business has pivoted?
Covid brought a huge challenge to the world and in TV and film, we were tasked with finding ways of keeping the content coming in a safe and secure way for all the Gravity team of staff and freelance personnel. Remote productions and reduced on-site footprints were and now have become a real reality, we responded to the needs of our broadcast and production partners and were proud to be a part of the key events like the Women's Euros that were able to continue during this time.
Is your business affected by the current skills shortage and is there anything the industry should doing more of to help this issue?
Like so many in the sector, we have seen enormous challenges in getting the right technical and production skills secured in our crew solutions. We are fortunate to have a large in-house crew and with the ongoing nature of our contracts the ability to offer consistent work to our freelance contacts. We are working closely with media production educational institutions and have an ever-developing graduate scheme to help drive the next generation of skilled technicians and production experts. Find out more here.
New virtual production technology has gained a lot of attention – is this an area you are focused on?
Covid has driven the roadmap for these production workflows exponentially, we have been supporting this with live examples and proof of concept projects to really test the boundaries of producing television in this way.
In late 2021, ATP Media, AWS and Gravity Media successfully completed a large-scale, multi-vendor production proof of concept for virtualised live production for the Rolex Paris Masters. Find out more here.
The Camera Map is being distributed to the UK's top film schools, to show film students a wide range of companies for buying or hiring a camera. For clients who are unfamiliar with commercial camera hire, what advice would you offer them to ease the experience?
Our focus is producing live events, sports, and studio output, which is centred on broadcast camera types, although we are always happy to help with advice on the best solution to produce a vast array of content, so get in touch.
How are you addressing sustainability and eco-friendly practices for your operations? And are your clients helping & supporting in this area?
Gravity Media is ISO certified which requires a constant review of green credentials, the business is fully focused on ensuring we are playing our part and trying to reduce our carbon footprint wherever we can. We continue to work with a number of partners and broadcasters so as an industry this is a core focus for all.
What are your plans for the camera business in the future?
Currently, we are in the middle of an incredibly busy summer of events and studio productions with the World Cup in Qatar on the horizon. During 2022 we have grown activity across several areas including esports and so we will be looking at building our inventory further and striving to bring in new talent to keep providing a great service to our clients.
ESL Gaming, a part of ESL FACEIT Group, and Gravity Media recently announced a partnership delivering the production services of ESL Gaming's global esports events over the next three years.
ESL Gaming will use Gravity Media as their exclusive service provider at some of the world's largest multi-genre gaming and esports events, including Intel® Extreme Masters (IEM) Cologne in Germany, ESL One Malaysia in Malaysia, the IEM Rio Counter-Strike: Global Offensive Major Championship in Brazil, DreamHack Atlanta in the US, and many more.
Gravity Media is proud to have been chosen to provide their expertise, equipment, and specialized human resources to deliver state-of-the-art esports event productions that can serve ESL Gaming's complex and flexible needs worldwide.
Following the partnership announcement, Gravity Media was in Riyadh, Saudi Arabia, for the Gamers8, the world's biggest gaming and esports festival. The event consisted of six back-to-back tournament weeks made up of Rocket League, Dota 2, Fortnite, Rainbow Six: Siege, and PUBG Mobile mixed in with several high-profile music artists such as Axwell, DJ Snake, Marshmellow and Black Eyed Peas, as well as sponsor activation events. The Gravity Media team was on air delivering Gamers8, which was streamed globally to thousands of viewers. Find out more about our work on Gamers 8 here.
Thank you, Jamie, and we wish you all the best for your very busy year.
---
Link to Gravity Media's entry on The Camera Map  •